Get a report of your fishing season

Once you have declared all your catches and trips with your FishFriender logbook, your are just a few clicks away from your fishing season report.
Once you have declared all your catches and trips with your FishFriender logbook, your are just a few clicks away from your fishing season report.
From your Profile tab 👤 , click on the "statistics" button (the first on the left in the horizontal bar).
You will then find a statistical report of your activity filterable by period, species and fishing technique. Perfect brand new design for sharing more easily with your friends.
All your fishing statistics
Personal records
This first section presents your records in terms of length, weight and number of claps obtained. The same fish or several different fish can be represented.
Statistics on weights and sizes
Get the minimum, average and maximum weights and sizes for each species caught. The number of catches and the catch and release ratio is also presented on each card. With a single click, you can share these statistics with your friends and social networks.
Statistics on fish species
How many fish from how many different species have you caught? A quick glance at this section will give you the answer and will boost you for new challenges.
Statistics of fishing tackles
Think you know everything about your equipment? What is the real performance of your favorite lure? Which leader diameter gave you the most strikes when looking for Zander? By regularly associating the equipment used with your catches, this statistical section answers all your questions. Enough to simplify your life to understand what really works and allow you to renew your equipment in a few clicks by taking advantage of our partner offers.
Statistics on fishing techniques
Keeping track of your fishing statistics by technique can be very useful in improving your fishing experience. In the same format as the cards by species, you can share your performance with your friends and invite them to do the same.
Declare your catches and sessions
Be precise
It is important to report your catches accurately to obtain complete fishing statistics. Of course, each type of fishing has its own characteristics. A freshwater predator caught and released will be more easily measured than weighed. Conversely, for carp fishing or pole fishing, the weight will be the reference. At sea, both indicators are usually followed.
So try to fill in the size and weight of your fish when possible to avoid having incomplete statistics thumbnails.
Do not forget also to note the fishing technique and fishing mode. Specify if the fish has been released or not and check that the position and date of your catches are correct so that the right environmental conditions can be automatically associated in the analysis board.
Declare your fails
Finally, the statistics of trips without catches are just as interesting to analyse as successful trips. So do not forget to record your fishing sessions in addition to your catches. You know, FishFriender is constantly evolving and as with the catches, we will prepare the session statistics for you soon enough.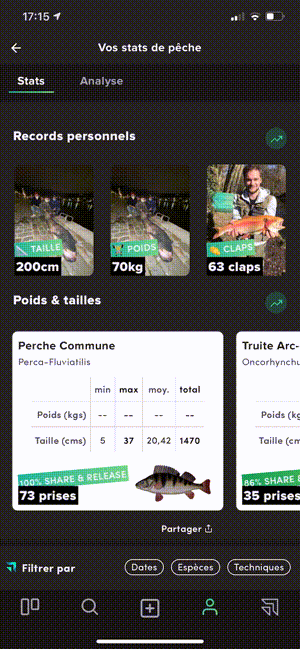 Get your fishing statistics
FishFriender is your fishing log for life. By writing your observations, you become the author of your fisherman's memoirs. Imagine being able to pass on all your experiences and statistics to your children and grandchildren as you would have liked to be able to receive from your grandparents. It is our greatest wish so that together we can pass on the passion for fishing and encourage future generations to admire and respect nature.
---