Pecheur.com partner of FishFriender
As part of its partnership with the European leader in e-commerce Pecheur.com, FishFriender benefits from special pricing conditions.
Thus, all members of the FishFriender community can take advantage of a 5% discount coupon on a selection of products for sale at pecheur.com. Premium SCALE members have access to an exclusive 15% discount.
How to generate a discount coupon at Pecheur.com
To benefit from a discount coupon at pecheur.com is really easy!
Go to any material page directly on the application and click on the price of the product displayed with a pecheur.com logo. You will only need to wait a few seconds for the coupon to be generated, depending on your member benefits. You can then copy your coupon and use it directly from your basket on your pecheur.com order.
You will also receive an email to remind you of the reduction coupon code and simplify your ordering process.
How to generate a 15% reduction coupon at Pecheur.com
The exclusive 15% reduction on the pecheur.com site is reserved for premium SCALE members. To take advantage, go directly to the SCALE tab from your FishFriender mobile application and click on "Access to special deals". The coupon will be generated in a few seconds. If you are not yet a SCALE member, subscribe to unlock this exceptional discount.
Where and when can I use a Pecheur.com reduction coupon?
Do not hesitate to generate a discount coupon every time you want to buy fishing equipment, no matter where you live in Europe. Each coupon has a limited period of use so don't wait too long to place your final order.
The pecheur.com shop offers one of the largest choices of fishing equipment in Europe and a very efficient customer service. In addition, with this SCALE partner -15% discount coupon, you are guaranteed to benefit from the best prices. The savings made on your purchases will easily allow you to reimburse the cost of your subscription so do not hesitate any longer.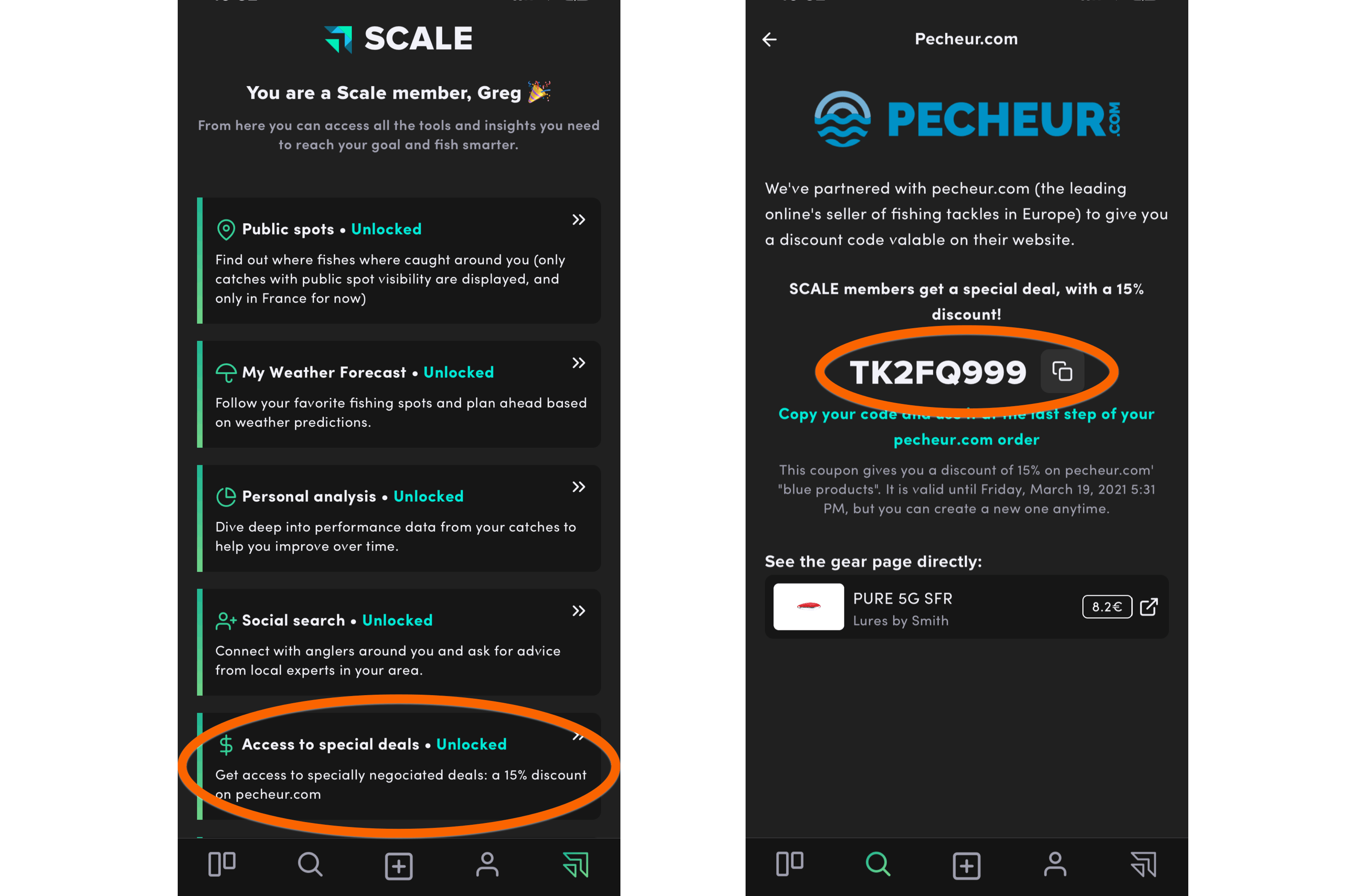 You can generate your pecheur.com discount coupon in seconds