French anglers favorite fishing brands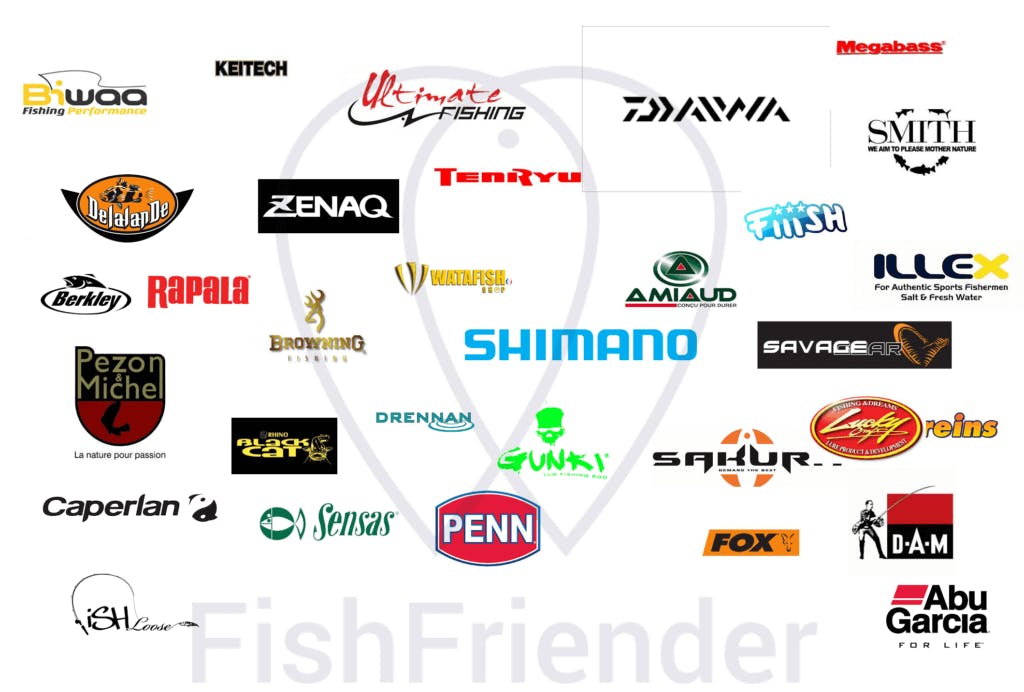 Discover which tackle brands are preferred by french fishermen
Studying fishing gear brands
At FishFriender, we like to know what our users value and guide our service accordingly. Recently, we have concentrated our resources to reference a maximum of equipment in order to allow you to fill your digital fishing box and to associate fishing rods, reels, wires, leaders, lures or baits, and others. accessories to your catch.
Our goal is to be able to analyze your experiences and present you with statistics on the type of equipment that works best according to selected criteria (type of fish, technique, season, weather, etc.).
Plus, citing a brand that you like can increase its visibility with other community members and encourage them to follow your lead.
We therefore decided to conduct a small survey of French fishermen on our Facebook page by asking them a simple question: what are the 3 brands that you use the most?

Many of these brands are already listed on FishFriender. The others will follow soon.
Survey results
Result: 430 responses from a sample of around 150 volunteer fishermen in 48 hours.
Among these responses, 129 different brands were cited, more than half of which only once.
If one expected to see well-known brands at the top of the table, it is interesting to note that several must-have brands obtained less than 1% of the vote.
These results only reflect the habits of a sample of fishermen willing to participate in the study, but it is reasonable to imagine that the general trend should not be too different from the results obtained. Either way, consumers who have spoken voluntarily are logically more open to promoting the brands they love to those around them and their opinion should therefore be taken into account.
The most used brand of French fishermen is not French, nor the second one by the way. Japan is indeed the great champion of this ranking with Shimano in first position (12.6%) followed by Daiwa (10.2%). Knowing the reputation of these great Japanese houses and their ability to innovate, particularly in the reel sector, but above all the distribution effectively operated in France by their representatives, we have no great surprises.
The favorite brand Savage Gear from the European group Svendsen Sport (also owning Okuma, Prologic, Water Wolf, Ron Thompson, Imax, Lenz Optics and Scierra) comes further in 3rd position (5%) and it is only in 4th position that the first French brand made its appearance with Illex (4.7%). Note that the French group Sensas is ahead of the Danish group if we take into account the scores of its other brands Gunki (2.6%), Pezon & Michel (1.1%), Starbaits (0.7%) .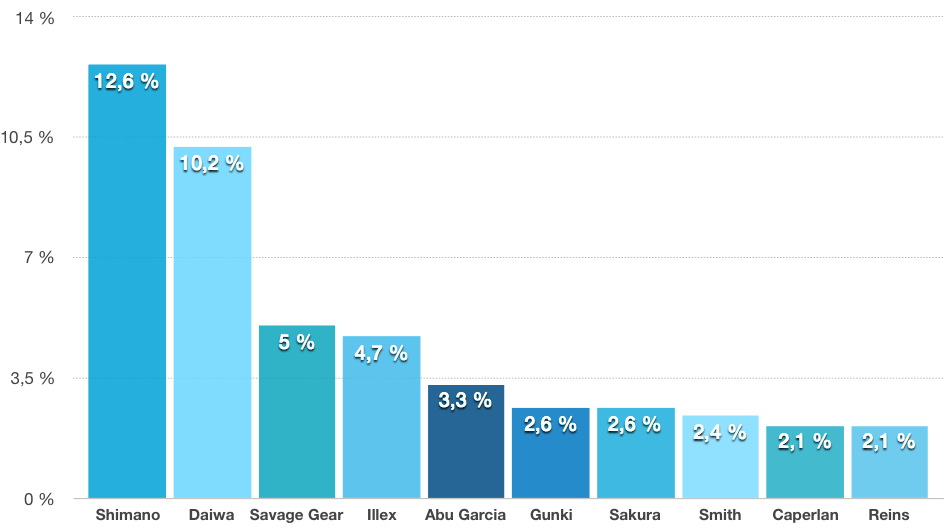 The 10 favorite fishing brands of the French, FishFriender survey
The rest of the ranking is closer: Abu Garcia (3.3%), Gunki (2.6%), Sakura (2.6%), Smith (2.4%), Caperlan (2.1%), Reins (2.1%), Fiiish (1.8%), Fox (1.6%), Berkley (1.4%), Keitech (1.4%), Tenryu (1.4%), DAM Effzett ( 1.2%), Dalalande (1.2%), Drennan (1.2%), FishLoose (1.2%), Megabass (1.2%), Penn (1.2%), Pezon & Michel ( 1.2%),…
This is not a ranking of sales, but the opinions of a group of French fishermen active on social networks and sharing their experiences. A study that remains very interesting, however, in this age of participation when social networks are of paramount importance in terms of marketing strategy, and only shows a tiny part of what can be achieved with the FishFriender application...
---