Hamburg, Rotterdam

From to
NEWS ⚠️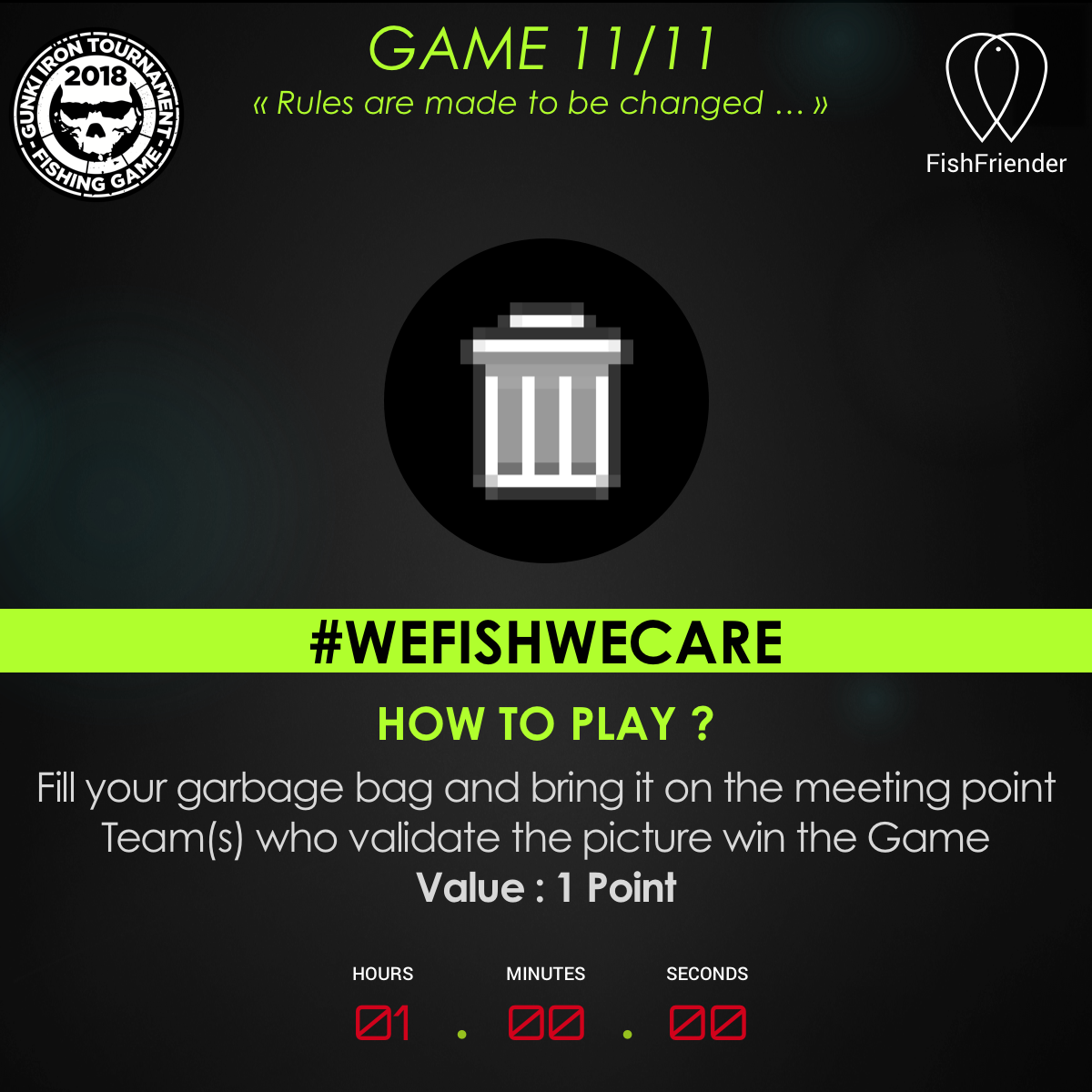 Last but not least... #WeFishWeCare
Sunday, July 1, 2018 12:00 PM
Almost the end of day 2, and with it, end of the game…
During their way back to HQ, teams have the opportunity to win one final point, and by the same way, show the world that we as anglers care about the world that surround us. Each team have been given a garbage bag : lets fill it and make our fishing world a cleaner place !
#WeFishWeCare
---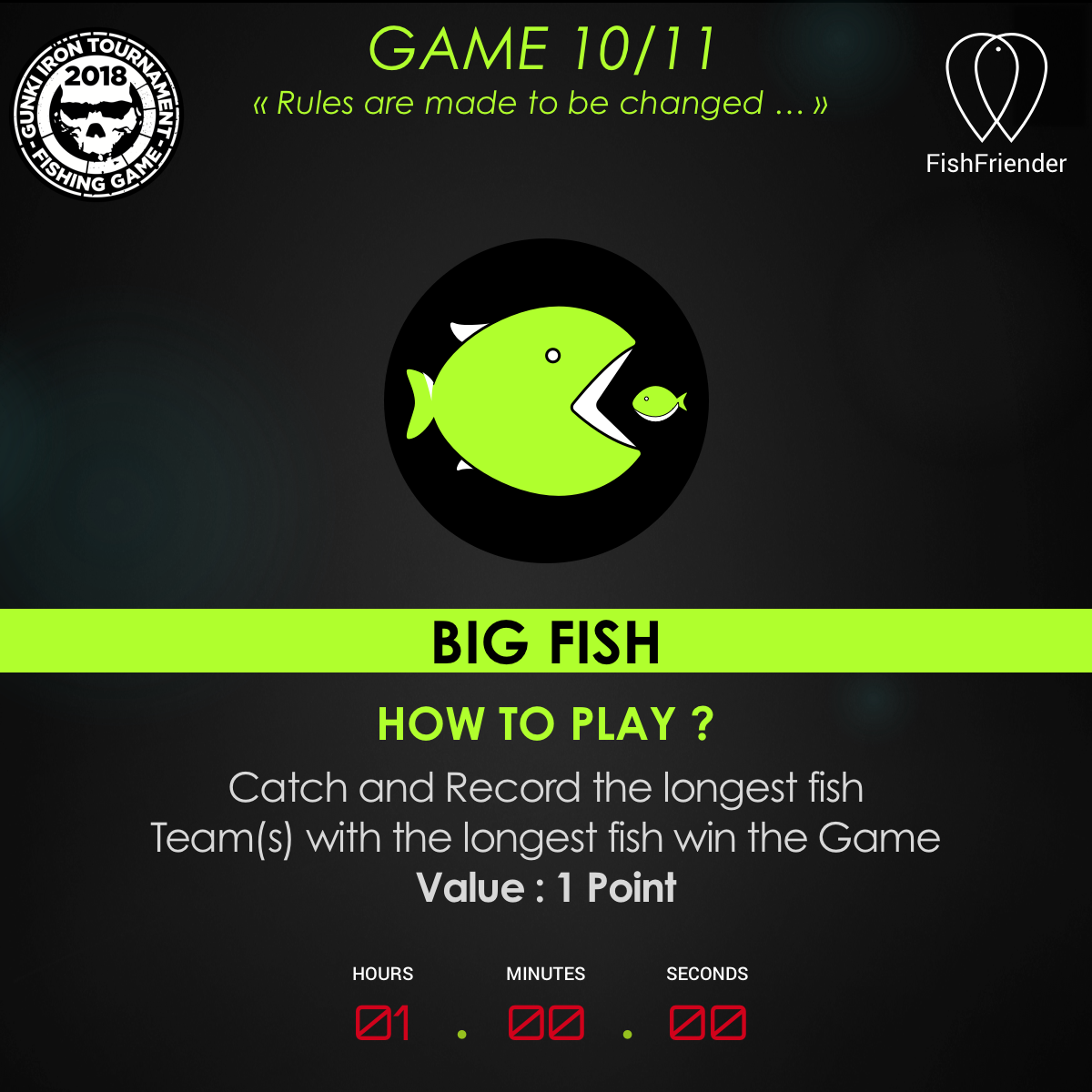 Big Fish !
Sunday, July 1, 2018 10:00 AM
What would be a fishing game without awarding the biggest fish ?
A point will be awarded to the team catching the biggest fish between now (12:00) and 01 PM ! All anglers, take your biggest lures and go get the monsters out there !
---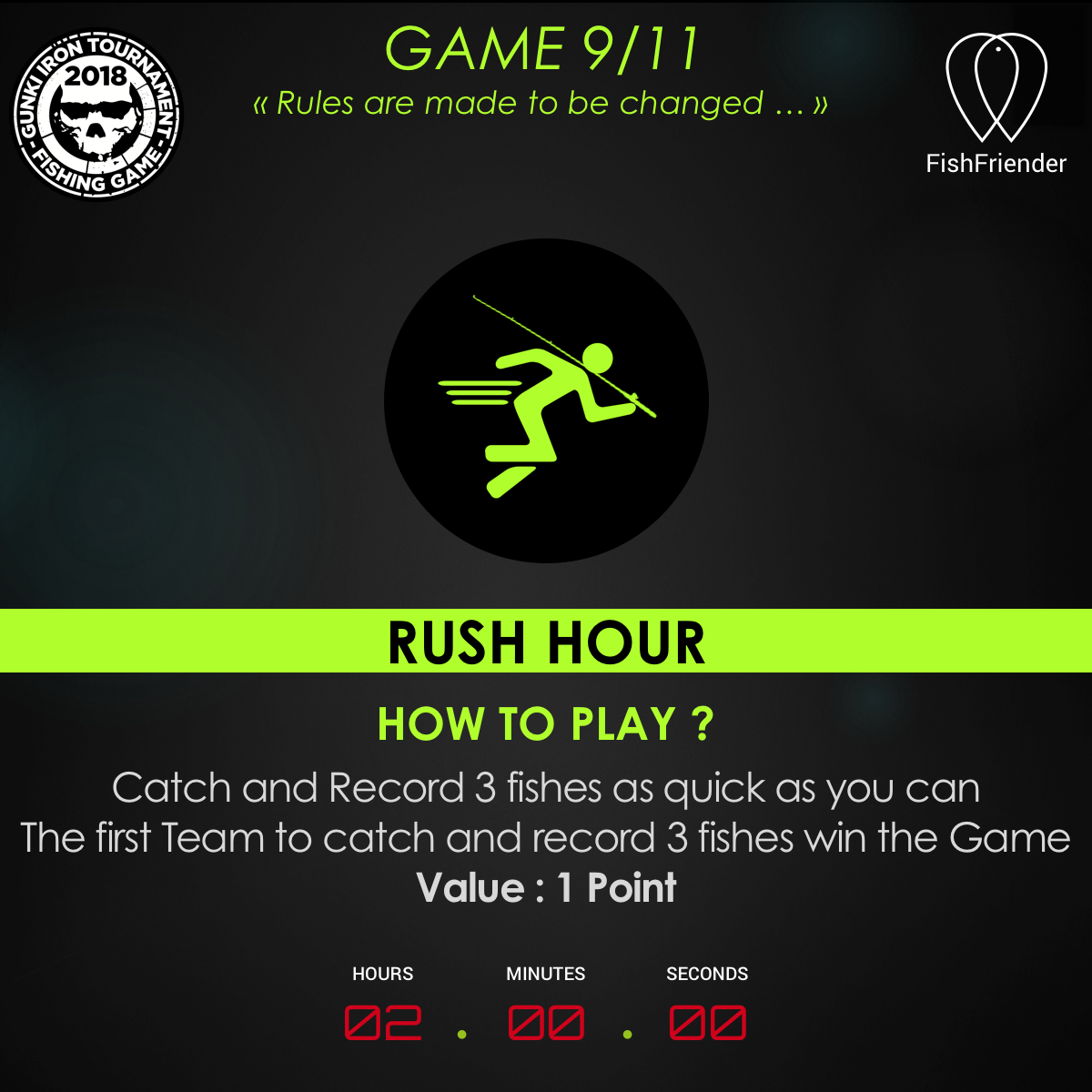 Rush Hour : hurry up !
Sunday, July 1, 2018 6:45 AM
SUDDEN DEATH : This new game is a bit special : only one team can win the point, and it will be the first team to catch and record 3 fishes, starting now ! Game ends as soon as the third fish from a single team is validated by our review team. Dont lose time, fish fish, fish !
---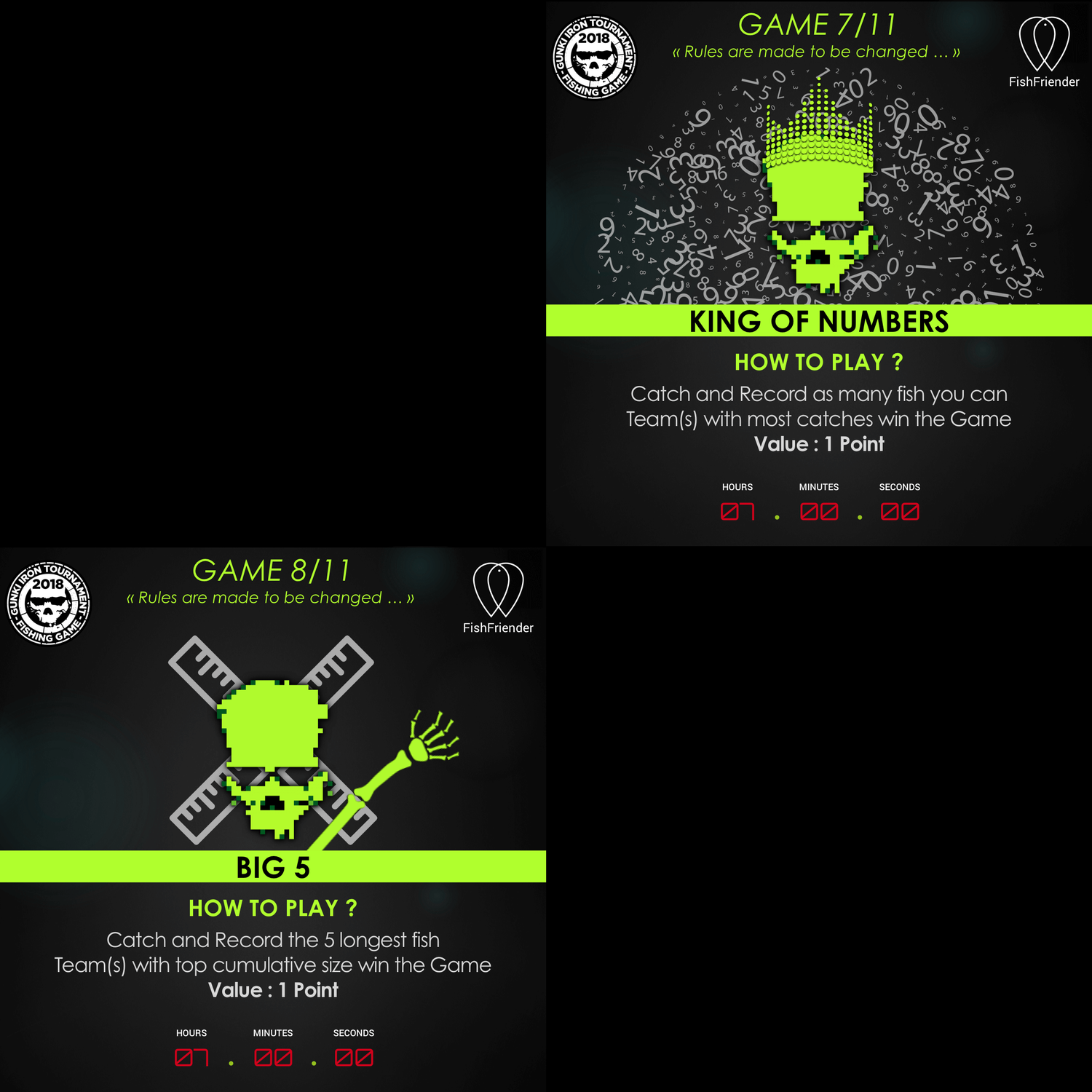 Day 2 starts now !
Sunday, July 1, 2018 6:00 AM
Like on day 1, day 2 consists of two classic games : "King of Numbers #2" and "Big Five #2". As yesterday, anglers can win a point either by taking the most fishes (above 10cm), or by taking the biggest 5 fishes (cumulative size of 5 longest). Did we tell you that a team could eventually win both ?
Also, there will be today some special games… stay tuned !
---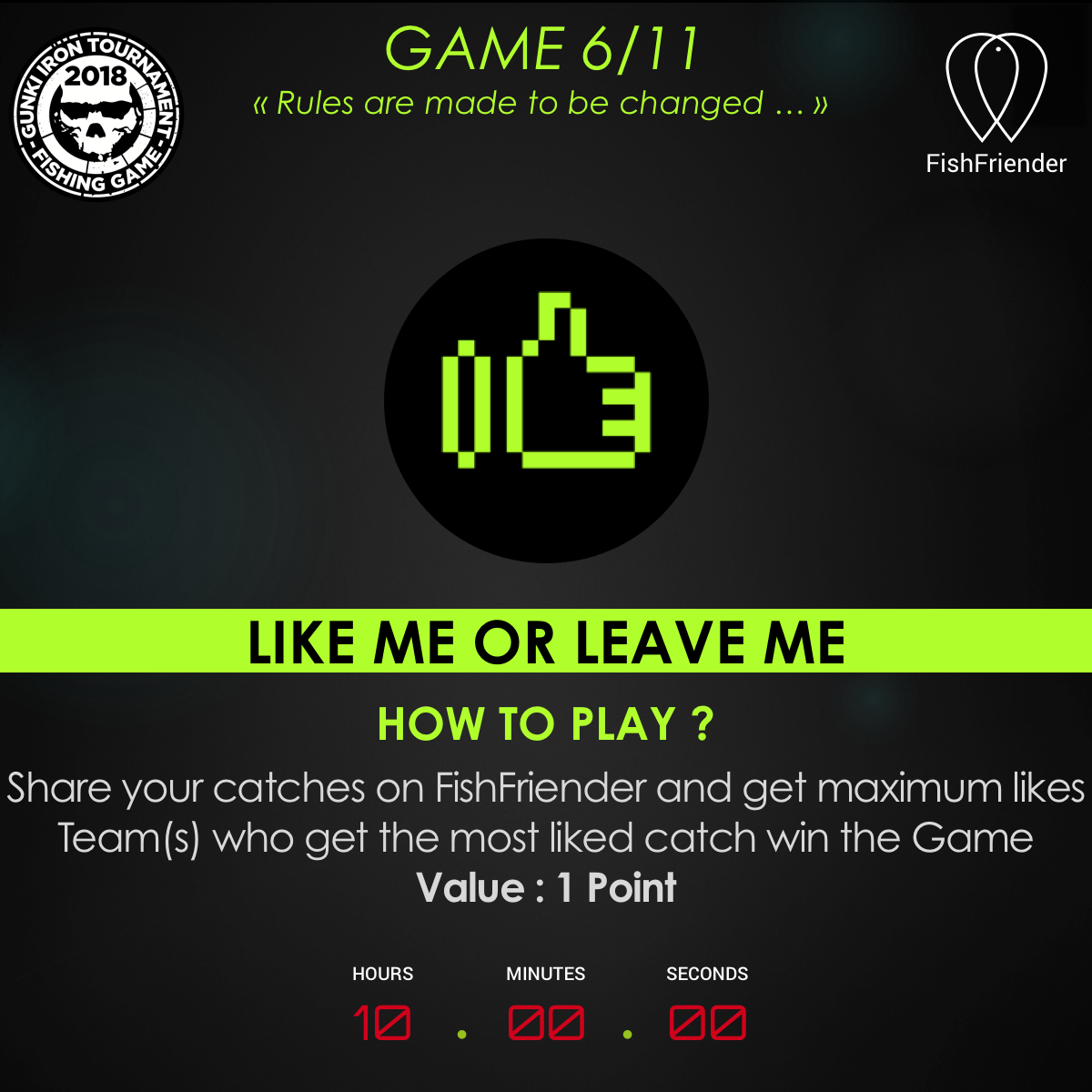 So... day 1 is not totally over yet !
Saturday, June 30, 2018 7:00 PM
As you know, night fishing is not part of the tournament this year. But that does not mean teams cannot mark points during the night !
The game "Like me or leave me" just started, anglers now have until 07 AM tomorrow morning to get the maximum number of likes on one of their like. So go on their team page, see their catches, and cast your like for the team you prefer ! You have the opportunity to change the game ;)
---
End of day 1 !
Saturday, June 30, 2018 4:00 PM
Here we go ! it's 06 PM, the first day is done.
All anglers had a long day, and it's not over as we're going to party right now !
We hope everyone had fun, and looks forward for tomorrow !
---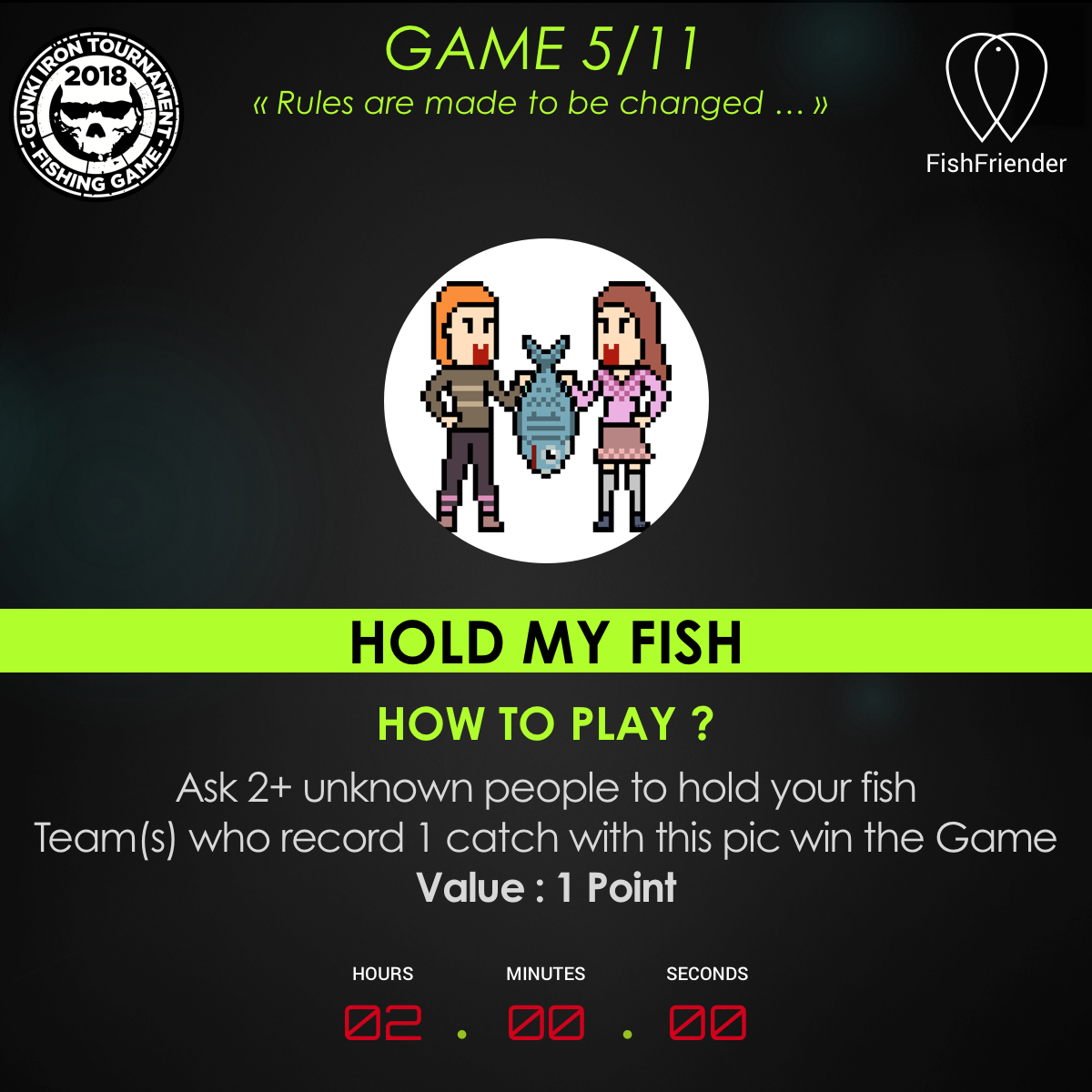 Hold My Fish
Saturday, June 30, 2018 2:00 PM
Can our anglers make friends ? For this challenge, every team that can catch a fish, and make the picture with two unknown people met around the water, will win a point !
---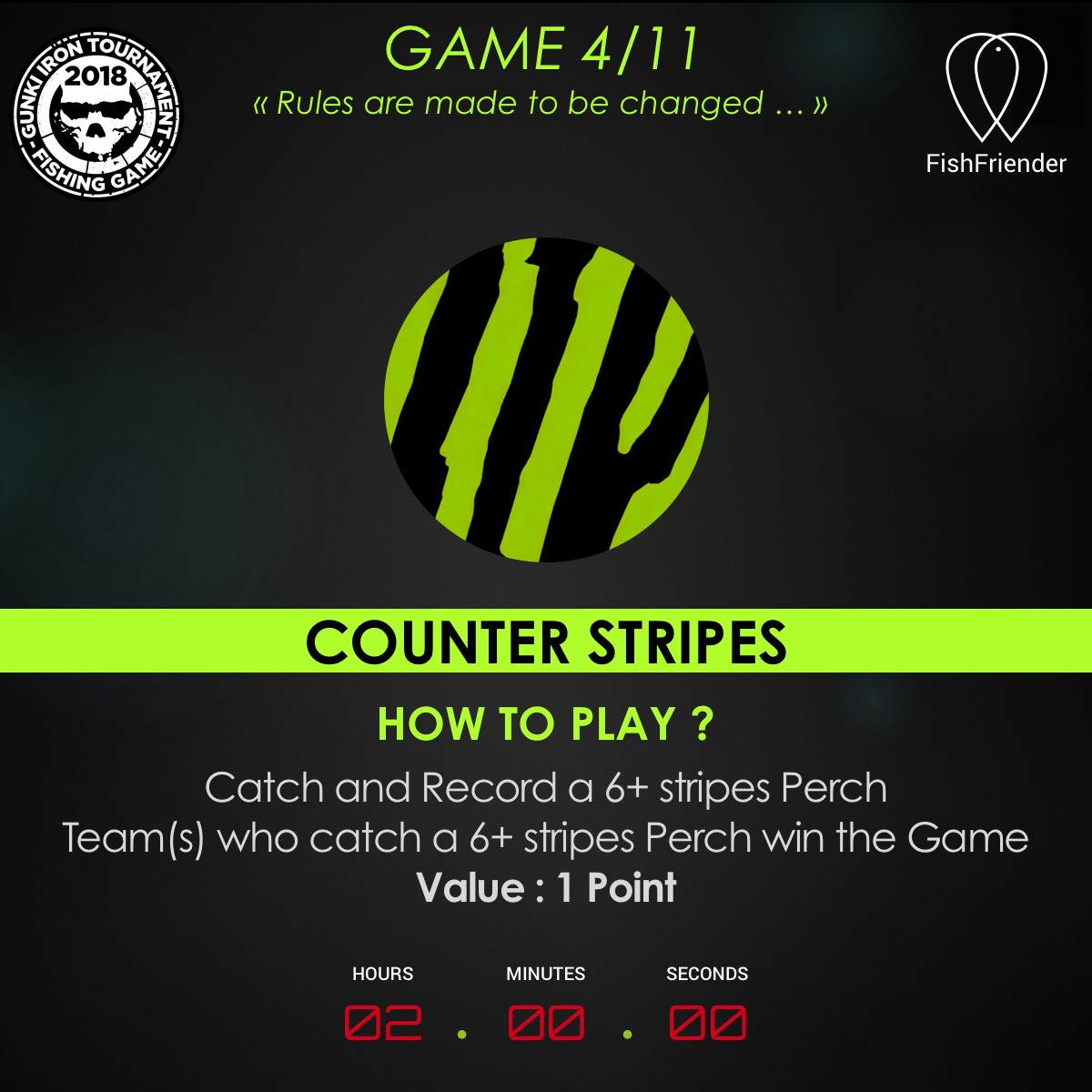 "Counter Stripes" is ON
Saturday, June 30, 2018 11:00 AM
-- NEW GAME JUST STARTED --
While teams just got out from the Catch'em all, and are still fishing for the classicos (King of Numbers and Big Five), they now have an opportunity to win another point for the GUNKI IT final ranking !
They have two hours to catch a perch with 6 or more stripes on it ! This game is for everyone : there is no a single team winning, but everyone can win : each team that got at least one perch with 6 stripes or more will get a point. Go go go !
---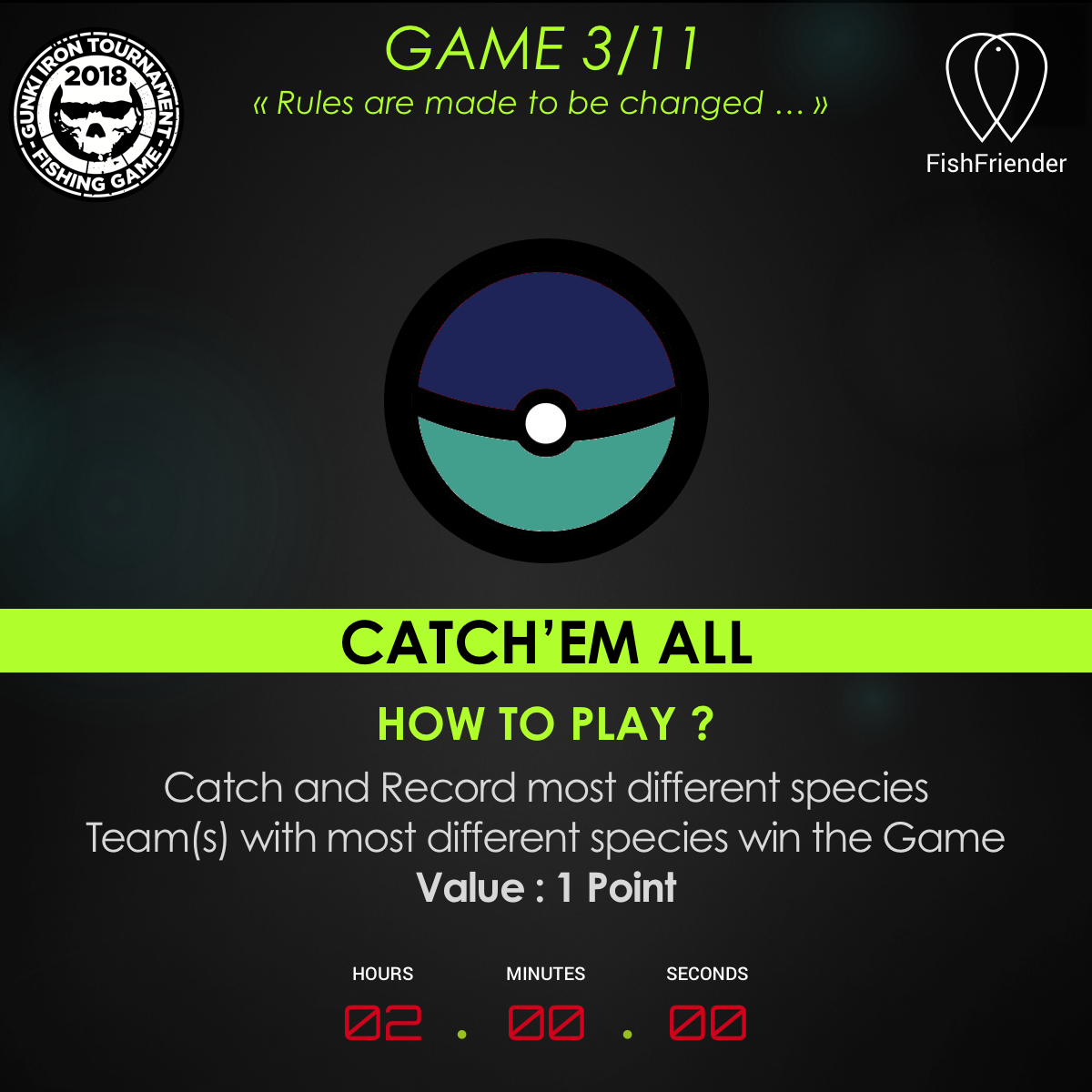 Catch'em all !
Saturday, June 30, 2018 8:00 AM
---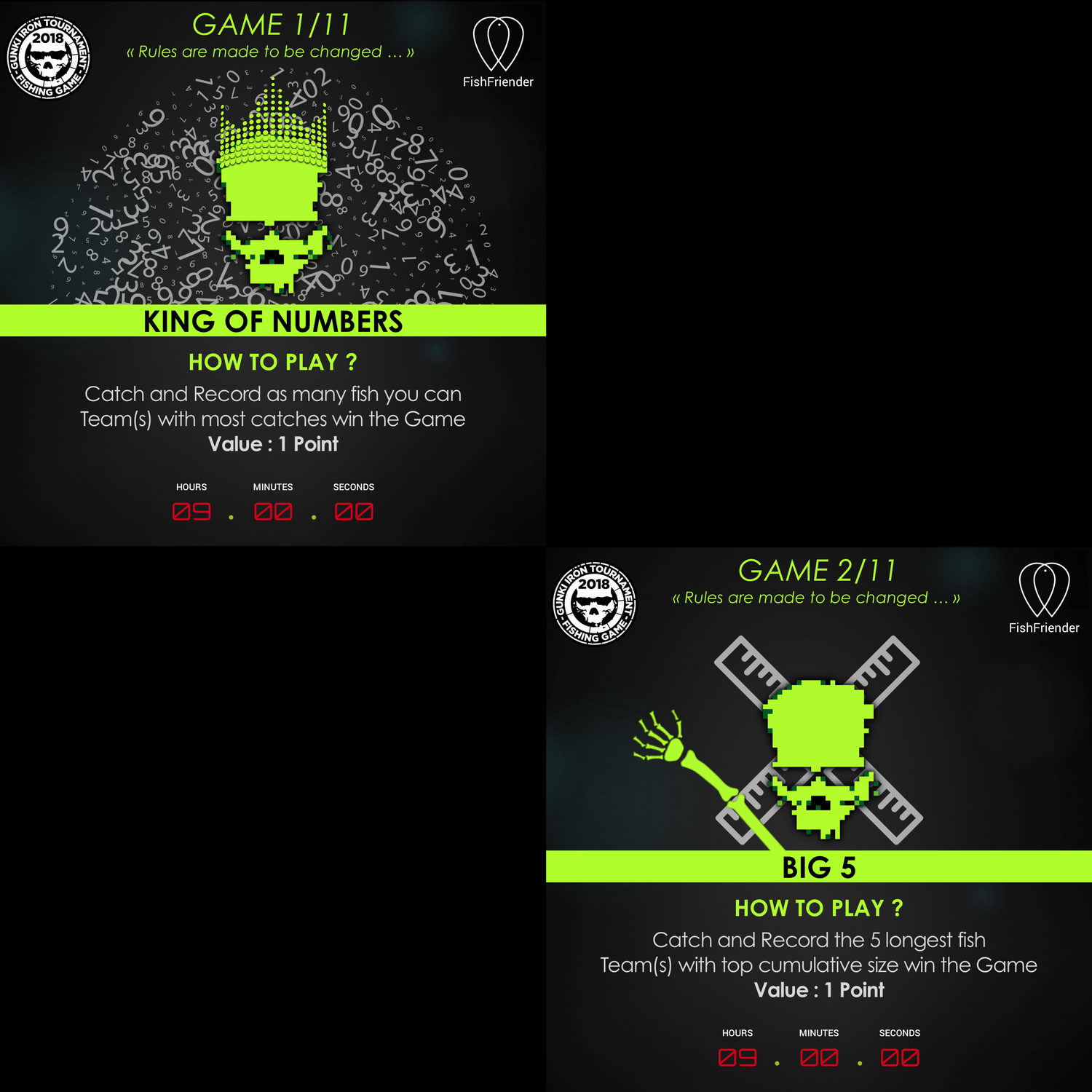 Gunki IT 2018 is open ! Go Fishing and have a good time !
Saturday, June 30, 2018 7:00 AM
GUNKI IT 2018 is open ! Go Fishing and have a good time !
All anglers are set and ready !
We start this 2018 edition with two classicos, that will last until the end of today's fishing : the games "King of Numbers #1" and "Big 5 #1" are live ! Anglers will now have to fish the most fishes, and the team with the most fishes will win the "King of Numbers" game, while the team with the maximum cumulative size of fishes (only the 5 biggest are count) will win the "Big Five" game !
Good luck to everyone, and stay tuned for next games that will popup during the day !
---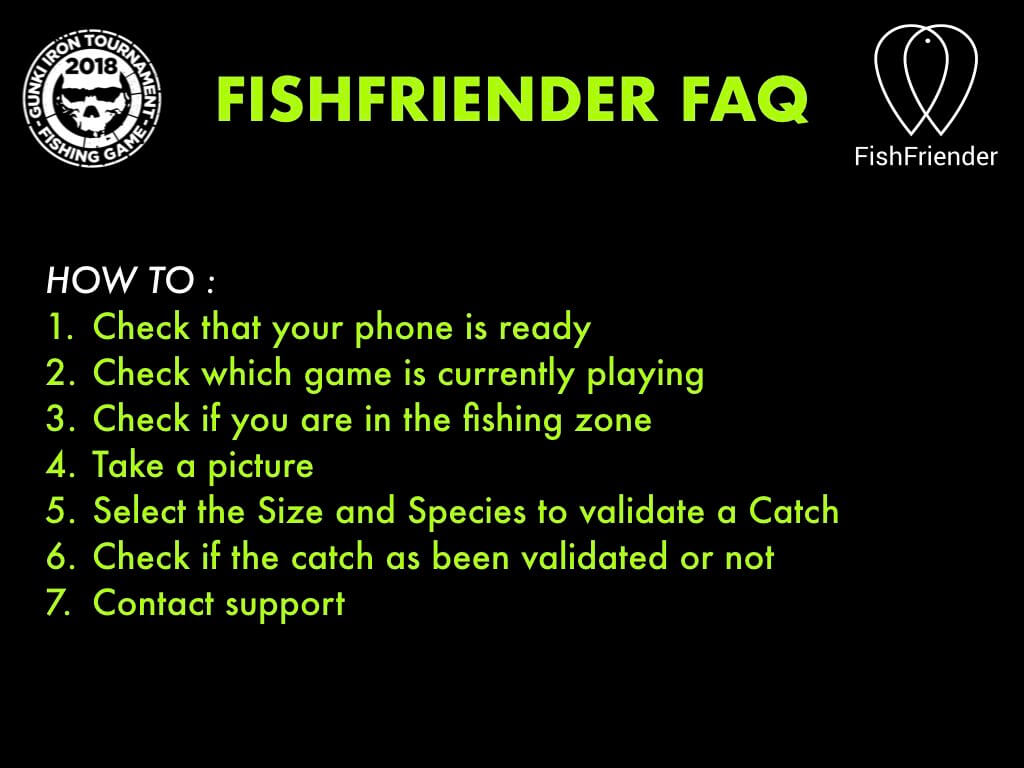 Application FAQ - read before joining us !
Friday, June 29, 2018 8:00 PM
We made you a document explaining how to use the app, also how to save a catch, contact support, etc… please read it before joining us for the GUNKI IT 2018 !
---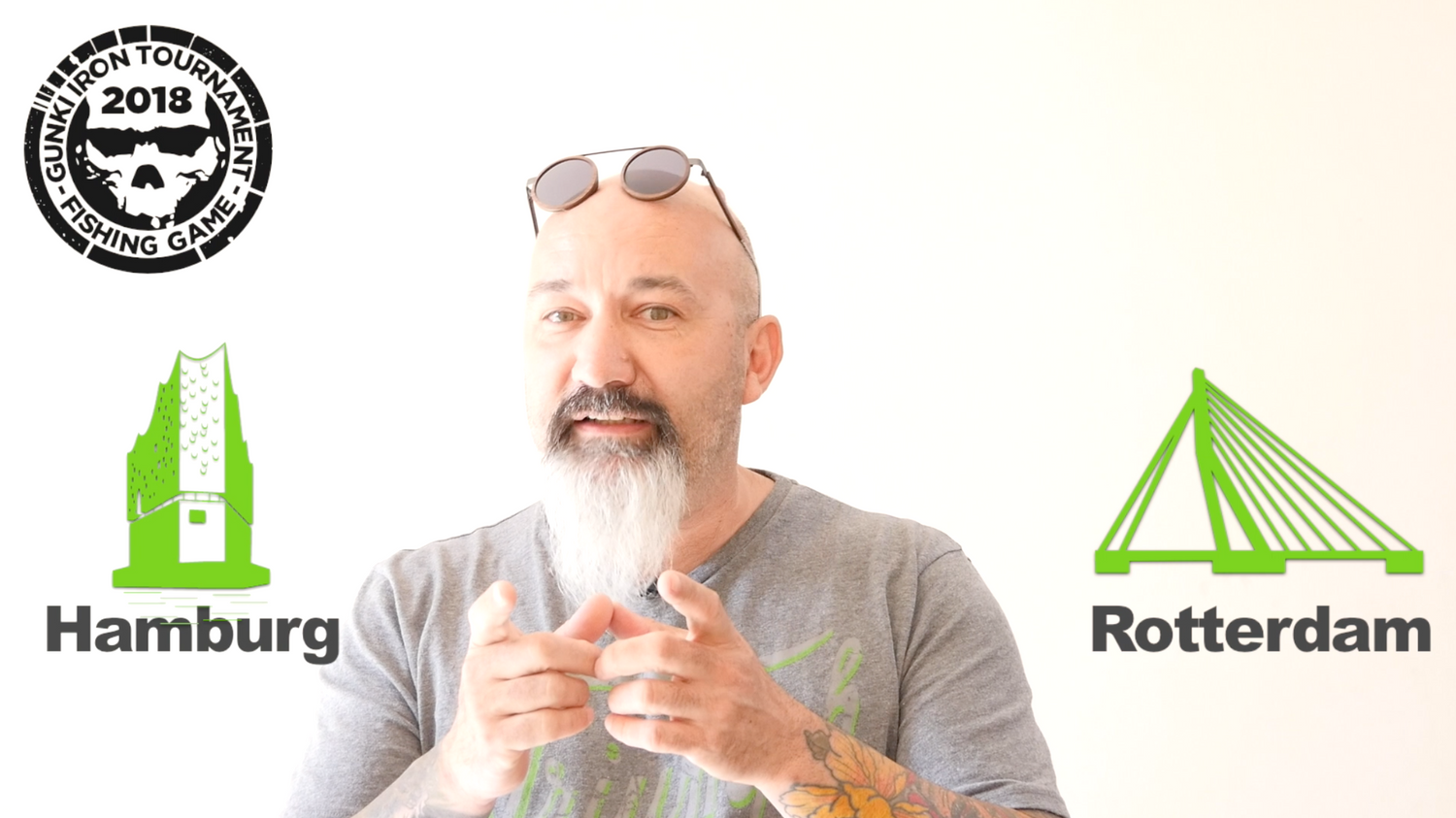 Check the rules and be ready !
Thursday, June 14, 2018 10:00 PM
A video is worth a thousand words
---
⚠️Last minute update
Wednesday, May 30, 2018 6:00 PM
Latest news : Unfortunately, we have to withdraw Paris from the list of Playgrounds.
---
Hi Guys, here is some more info on the GUNKI IRON TOURNAMENT 2018
Tuesday, May 29, 2018 6:00 PM
The final entry fee is 25€/player (75€ per team, payment by the captain).
Captains must be 18 or older, team members 16 or older.
Registrations start on the 31st of May at 0:01 CET !
This year you will have access to multiple cities, 3 playgrounds, lower entry fee and even more games to enjoy and share…will you be there on the 30th and 1st of July?
---